31 weeks down and theoretically 9 to go.  Here is a picture from today: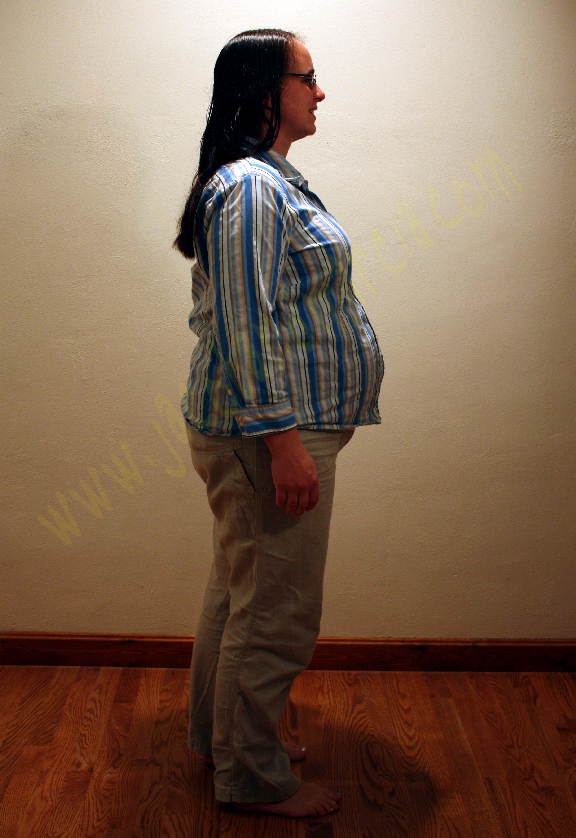 A great big "Thank you!" to Abby and her friend(s) for the maternity clothes.  It is nice to have warmer things to wear as the season is changing.
Let's see, I get asked all the time how I am feeling…?  I am feeling great.  I get heart burn.  I often feel like I am starving (even though I am not).  I am tired.  I can't sleep (unless I build a sleeping tower or nest out of ten pillows).  I pee a lot.  I feel Braxton Hicks.  And yet none of that makes this a bad experience.  And over-all I really do feel great.  These things are all intriguing to mee, I am more curious about why these things happen, and I enjoy studying them.  I have felt hiccups from Copyright, not everyday, but a number of times, it is pretty cool in my opinion.  I have been told not to sneeze anymore unless I am sitting in the restroom.  I still get out and walk to keep it up.  Most days I get in eight cups of water.  I think I may need to figure out shoes that do not require tying, or bending over, but I am holding out as long as I can.  I am now scheduled to go to the doctor every two weeks.  And two weeks ago I was told that I have gained all the weight he would like for mee to gain, there were tears, and a hug and reassurance that it will be okay, and it is common for women who lost significant weight prior to pregnancy, and while I really don't want to stress about it, I do.  (and it appears I like run-on sentences…go figure)  Also, I am refusing to waddle, when I feel like my body is starting, I pause and re-balance myself, and then continue walking.  I am more than willing to mosey, however.

I guess that is the update for now.  We have been keeping busy and trying to stay out of trouble.