Cher had 71 babies. 53 are surviving as far as I know. That is how many babies there were when I let them out of the confining smaller floating tanks into the big tank to "swim free". I have been checking the filter to make sure no babies have been sucked up, and I have not found any in there yet. I also have not seen Sonny or Cher eating any of the babies, so I can only assume that there are still 53 babies in the tank. I also have not found any dead ones. The babies are growing pretty well, and swim out there with mom and dad.
I finally returned to the project of putting the birthing video together. This is only a few of the babies coming out. Some are born faster and some go slower, I guess it just depends on the size of the baby fish. In part of the video we can see dad hanging around trying to get to the tasty little fry.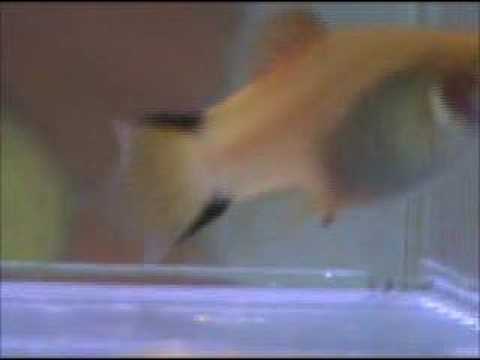 By the way, Cher is pregnant again. I can see little baby eyes in her, and guessing on the size they are and how big she is not compared to last month, I do not think she will be having 71 this time. Good for her.
Update May 19th: I woke up this morning and she had her babies, there were 8 of them and I think only 5 will make it.  So, now is the chance for anyone to speak up if their little one wants to name a baby fish.  Noah, what do you think?